In the modern era, where hardware and software are going through a major advancement, the security of data and information is crucial. For this, there is a significant boost in the field of security.
Now, there are multiple ways to secure data both in Windows and Mac and even in mobile platforms like Android and iOS.
This is mainly achieved by the introduction of cloud-based security, passwords, face unlocking and also fingerprint sensors to open data or to lock our files.
But the safest and by far the most convenient way to lock or hide your private data or files is by using a dedicated file locker program.
This is where UkeySoft File Lock for Windows and Mac software comes in. It is a files and folders locker which is highly used to password protect files and folders.  It promises to be the perfect fit here! Well, let's find out!
UkeySoft File Lock for Windows and Mac Review
UkeySoft File Lock is a powerful encryption software that protects all your data. It is a file lock for PC. It uses AES 256-bit algorithm to encrypt your secured data. Not only in Windows but it is also a file lock for Mac. You can password protect folder file on Mac. This can lock or hide your internal hard drive, external USB drive, flash drive, network drive, thumb drive, pen drive, memory card, etc.
It can also protect your local disk. You just need to set a password to protect a folder. After that, if you add any file on that particular folder, all your data will become password-protected, and no one will be able to access them without the master password.
To install the app just follow the simple steps-
Step-1: Go to chrome and download the software.
Step-2: Next run the setup and follow the wizard to complete installation
Step-3: Set a password for running the software for the first time.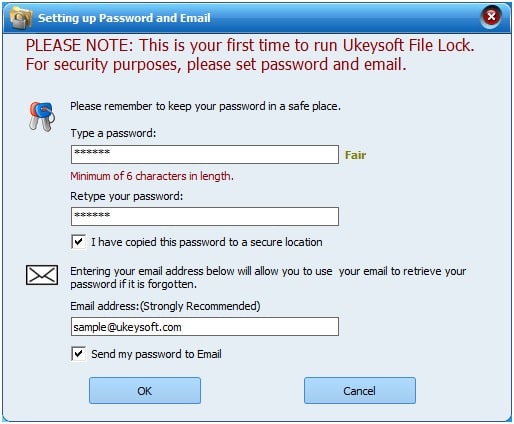 Your UkeySoft File Lock is successfully installed.
Technical Details
OS for Windows – Windows 10/8.1/8/7 and Windows Vista/XP (32 and 64 bit both)
OS for Mac – macOS Mojave/macOS 10.10/10.11/10.12 and above
Processor – 1 GHz processor or above.
Supported Device – local drive, external USB drive and shared folder on LAN
Supported languages – English, French, Italian, Japanese, Portuguese, Chinese, Czech
Features
To secure passwords for files and folders, military-based encryption is used which no one can decrypt except you.
UkeySoft lock can make the particular folder invisible using the same encryption used to lock files in Mac and Windows.
If anyone tries to delete an app from the device, at first, he needs to decrypt the code to ensure he can uninstall the app
If by any means you forgot your decryption code, you can quickly recover it as a notification will be sent to your email address.
To maintain your privacy to the topmost level, you can always hide the app if you think anyone can mess with it.
Price:
It is available for both Windows and Mac and also has a trial version that you can try.
1-Year Subscription is around $14.95, and Personal License comes at $24.95. There is also a Family License which is priced at $44.95
The 1-Year Subscription for Windows is expensive than Mac. It is priced at $29.95. For Personal License and Family License, it comes at $39.95 and$79.95 respectively.
Operating Procedure:
Apart from the files and folders in your PC, you also want the USB drives to be protected. If the internal files can be stored, there should be a method to protect the external ones.
Or one can simply connect the USB flash drive and retrieve all the pieces of information. UkeySoft has this feature too! You can simply password protect your USB drive by this software.
How To Encrypt/Decrypt A USB Flash Drive In Windows 10/8/7/XP?
With the help of UkeySoft, you can password protect and lock USB flash drive on Windows and Mac. To encryptUSB drive on Windows computer, the steps are as follows:
Step-1: At first, download the UkeySoft File Lock on your computer and install it.
Step-2: Choose the initial password to be 123456 and click the OK button.
Step-3: Insert the USB flash drive. It will automatically be detected.
Step-4: Select External disk from the left menu bar. This will list down all the files and folder list in your USB drive.
Step-5: Add the files that you want to protect.
Step-6: Now simply choose Hiding File or Locking file. Your selected file will be hidden or locked respectively.
Step-7: You can now set a password to lock or hide your selected items. Simply click choose a password and type it twice.
Step-8: Click on the hide or lock button and then the OK button. Hereafter all the encrypted files will be listed.
Your files and folders are now hidden or locked according to your choice. This is how you encrypt USB flash drive on Windows.
If you want to unlock them then just go for these simple steps-
Step-1: Click the unlock or unhide button from the right column.
Step-2: Enter the password on the pop-up window.
If the password is valid, your protected files and folders will be decrypted back
How To Hide Or Lock Files And Folders In Windows 10/8/7/XP?
Step-1: Free download and launch UkeySoft File Lock on your Windows computer. Set a password for the account of Ukeysoft File Lock when you run at the first time.
Step-2: To hide files or folders in Windows computer, please select Local Disk from the left menu bar, this will list down "Hiding File", "Locking File", "Protecting File" and "Folder Monitor" functions.
Step-3: Click Hide File(s) or Hide Folder button to add files or folders to UkeySoft, you selected files/folders will be hidden.
Step-4: To password protect files, folders, and drives on local disk, please select "Locking File" function, then click "Lock File(s)", "Lock Folder" or "Lock Drive" button to add files, folders and other document to UkeySoft.
Step-5:After refreshing, you will see a "locked" status indicating that your file/folder has successfully locked with password.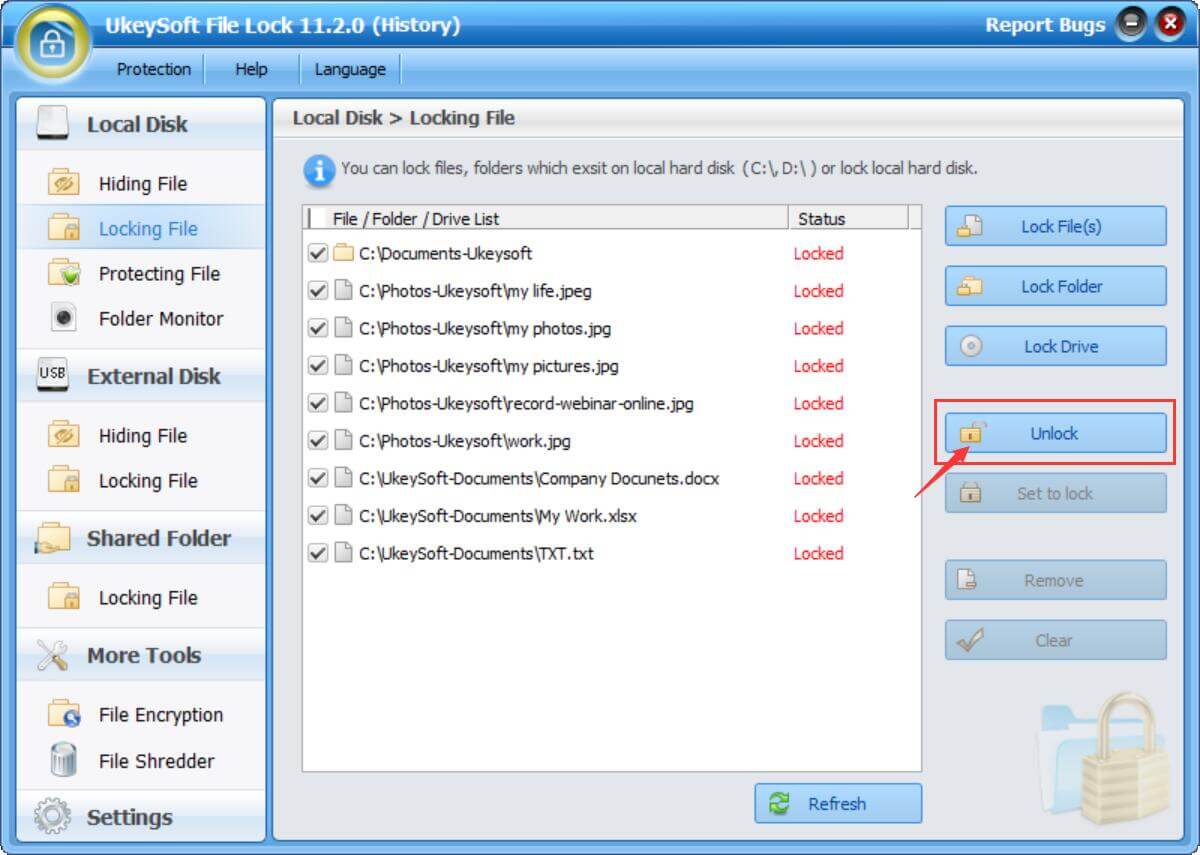 How To Hide Or Lock Files And Folders In Mac OS X?
For Mac users, sometimes you may want to lock, hide or encrypt Your Files and Folders. UkeySoft File Lock(Mac) has updated, it not only supports hide, lock files and folders in Mac computer, but also encrypt USB flash drives in macOS Mojave, macOS Catalina, macOS 10.13 High Sierra or Earlier. Let's learn on how to hide or password protect files and folders on Mac computer.
Step-1: Free download, install and run UkeySoft File Lock(Mac) on MacBook Pro
Tips: The free version only allow you hide files and folders, if you want to set a password to protect your files and folders, please buy the full version to unlock it's full function.
Step-2: If you want to hide or lock folders, just directly drag and drop folders to UkeySoft app.
Step-3: To hide or lock files, just add files or documents to the Application by clicking the "+" button in the lower left corner.
Step-4: After add files or folders to the Application, then select files/folders/Apps and set as Invisible
Step-5: If you want to set a password to protect files/folders, please please click 'Require Password' check box and type a password.
Nobody can access into the app or your data without your password.
Advantages Of Using UkeySoft File Lock:
You may wonder what if someone deletes this software from your PC? Will all the securities vanish off like magic? UkeySoft has a solution for this too.
First of all, you can hide this software in invisible mode and most importantly no one can delete this software from your machine. The software itself is password protected.
If someone tries to enter a password more than 5 times, then it will send you an alarm notification on your registered email id. This will ban the unknown login.
We already know the protected files cannot be accessed by unauthorized users with the presence of this software.
Another reliable feature is that it also protects them from viruses. Though it is not an anti-virus software, still it protects sensitive information from Viruses and Trojan horse.
No one will be able to read, write, corrupt or delete your secured data.
Conclusion:
This is one of the most trusted software for protecting your data. It has more than 5,45,06,558 downloads and 4.5 ratings. Now you don't have to think about the protection of your files and folders.
They can remain protected in your PC. It also protects external disks. Though not being an anti-virus software. It gives protection from Virus and Trojan horses. We would suggest you go for this software and have full faith in it.